We as a population have undertaken many studies lately, in the efforts to find out why meetings work – or don't.
Often, we've been labeling them an inefficient tradition; usually seen as a waste of time (unless people actually came prepared) and it's safe to assume we have all come to at least one meeting unprepared. So what gives? Why are meetings so hard to care about? Why are they so difficult to manage? Why do we keep having them?
What Is the Problem?
For the most part, the issue of ineffective meetings revolves around notions of engagement, preparation, communication, concision, and concrete development.
It's difficult to motivate people who do not care about what's being discussed.
It's even more difficult to move forward when people don't have the necessary information.
It becomes challenging to host constructive discussions when people aren't on the same page.
It's almost impossible to get ahead when bogged down by daily trivialities, and it's certainly not easy to achieve goals when projects can't be completed on time.
So how best do we move forward?
Getting People Engaged
Most people want to discuss things that affect them directly. Good things to bring up during meetings are discussion around issues that involve different departments, as the resources have been allocated for the sole purpose of group discussions.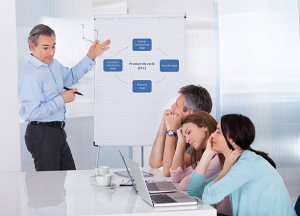 Take the time to consider if this issue affects the team you'll be addressing at the meeting. They'll be appreciative of your desire to include them.
Coming Prepared
It's important to give your team some heads up when coming up to important decisions or meetings that involve preparation, as you want to maximize time with all involved parties. Trying to inform people while others, who have prepared, sit and wait, is a great way to leave your team frustrated and incongruent.
Take the time to consider the following: If you recieved an invitation to participate in this meeting, would you have the necessary information to participate in an active, informed, and constructive fashion?
Understanding The Point
People can't be helpful if they don't know what you are looking for. Delineate for the group what you're expecting from their answers. The question-based approach helps you elicit more helpful responses from your team, but only if they know for what their answers are being used.
Make it known if you're holding the meeting so you can gather input for a larger decision. If you need a sounding board on a new idea, state that in the agenda. If you're looking for a consensus by the end of the meeting, write that down and make it very clear that the discussion's end goal is to decide on something.
Take the time to list your expectations at the beginning of the meeting, so everyone knows why you have gathered them.
Time Management
Keeping a large group of people on topic is a challenge while keeping them on schedule is nearly impossible. For this reason, it is vital to manage your time effectively in each meeting. This can be done through the use of a well-made agenda.
Outline each section/question/topic portion within a time frame. This time frame should allot an adeq
uate amount of time for discussion, revision, and conclusion. This is important to outline before the meeting: often times, you will end up hearing back that certain issues either need more time on the board, or could be cut down significantly.
Take the time to consider how to best spend your time in this meeting. How long would you like to spend on each item of discussion? Will this discussion take up more time that it is worth?
Reaching Goals
Without engagement, preparation, communication, and time management, the chances of your business flourishing are slim. Your meetings will wander; you will frustrate your employees; your projects will fall, and stay, in the parking lot.
It's important to set goals, and to be consistently striving to reach them. The whole reason people have meetings is to consolidate their efforts on a given topic with the aim to accomplish something. Don't let a history of lackluster meetings be the reason you don't get to where you'd like to be.
Take the time to set goals, and revisit them frequently.
How Do We Fix Meetings?
Here at Freeconference, when someone can't make a meeting, it's an emergency. We are in the market of productive meetings, and we want you to maximize your time spent collaborating, whether remotely through virtual conferencing, or in person at a boardroom table.
Whether or not your last meeting was effective, what to do after its completion determines how effective the next meeting may be. Our advice is to:
Make a solid meeting agenda.
Engage people.
Prepare your staff.
Convey your interests.
Set goals, and make them common.
Respect their time.
And don't forget, a little gratitude goes a long way. Thank them for their engagement; thank them for their time; thank them for their ideas.
We would not be anywhere if not for collaboration. Don't let your meeting minutes go to waste. Get back to Making Meetings Matter.
FreeConference.com the original free conference calling provider, giving you the freedom to choose how to connect to your meeting anywhere, anytime without obligation.
Create a free account today and experience free teleconferencing, download-free video, screen sharing, web conferencing and more.